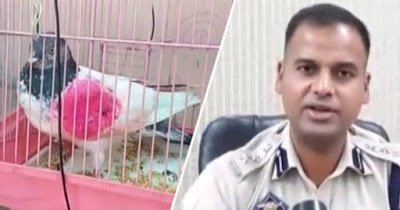 Indian police have arrested a pigeon for reportedly being a trained spy for Pakistan, according to reports.
Information reaching Checkout Magazine has it that the pink coloured bird carrying a "coded message," attached to its foot allegedly flew across the border that separates Indian and Pakistan-controlled parts of Kashmir.
Villagers living close to the border in Manyari captured pigeon and afterward turned it over to authorities after catching it along the border, Sky News reported.
A police source said, "The pigeon, suspected to be trained in Pakistan for spying, has a ring with letters and numbers written on it."
"Though birds have no boundaries and many fly across international borders during migration, a coded ring tagged to the captured pigeon's body is a cause of concern as migratory birds have no such rings," the source added.
However, a Pakistani villager has urged Indian Prime Minister Narendra Modi to return his pigeon, currently being held in India on charges of spying.
The man identified as Habibullah, who lives just 4km (2.5 miles) from the border, said he flew his pigeons to celebrate Eid festival.
This is not the first time birds have reportedly been used for espionage in the disputed territory in the past.
252 total views, 1 views today