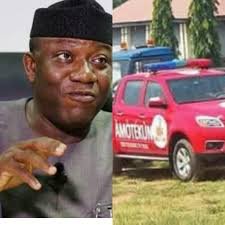 Ekiti State Governor, Dr Kayode Fayemi has expressed the resolve of the Southwest region not to back down on their bid to secure themselves through the regional security initiative tagged 'Amotekun'.
He stated this resolve while he addressed the people of the state on a live radio programme tagged 'Mr Governor Speaks'.
He said, "On the issue of Amotekun, our people have taken it far beyond than where we thought of, even beyond the level we did not take it to. We now have Amotekun in Russia; Amotekun in the United States of America (USA); Amotekun in South Africa.
"What we have in mind in creating Amotekun is to, firstly, ensure the security of lives and property of our people. Our police have been over-stretched. There is no how they can provide maximum security for us and we think we can complement their efforts with our local arrangement."
He stressed that there is a need for to oversee the actualization of Amotekun as the people have conferred legitimacy on it.
His words, "I believe the most important thing now is to ensure the success of Amotekun, now that people have accepted it. Otherwise, our people will descend so much on us since they are ready to support Amotekun for the security of their lives and property."
276 total views, 1 views today