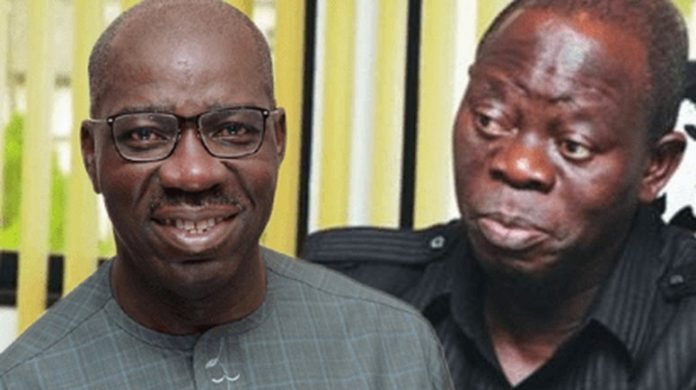 Following his decision to formally resign his membership of the ruling All Progressive Congress, embattled Edo State Governor, Godwin Obaseki, has lambasted the party's National Chairman, Adams Oshiomhole, whom he accused of being behind his ordeal.
Obaseki made his allegations while he addressed State House correspondents at the Presidential Villa, Abuja on Tuesday.
Governor Obaseki has been loggerheads with Oshiomhole, who is also his predecessor in office.
The disagreement reached its peak on Friday when the screening committee set up by the party disqualified Obaseki and two others from contesting the governorship primary while it cleared three other aspirants for the race.
Responding to questions on his disqualification being based on inconsistencies in his credentials, Obaseki said, "Someone who hasn't gone to school, who doesn't have certificate himself, will not know and understand what inconsistencies in certificates are. That is the starting point.
"What is the inconsistency? There is no inconsistency in my certificates. The issue was in 2016 when I contested for the governorship election. I could not find the originals of my certificates because I hadn't required them for more than two decades.
"So, I deposed to an affidavit that I couldn't find the originals. Subsequently, I found all the original copies of all my certificates and they are with me. So, I don't understand what is inconsistent about that.
"Maybe the inconsistency in the National Youth Service Corps certificate where he said an 'i' was missing at the end of my surname. But if you look at that, it was like a cursive, it was written in a cursive manner. So, if that's inconsistency for him, then it's really sad that people of that quality are leading Nigeria's ruling party.
304 total views, 1 views today