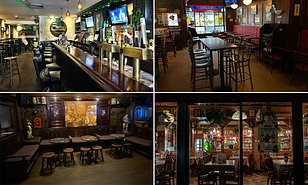 Information reaching us at Checkout Magazine has it that authorities are considering closing Pubs, restaurants, gyms and cinemas across London in a bid to the coronavirus outbreak.
This move will be announced by Prime Minister, Boris Johnson at his daily news conference, Metro UK reports.
The capital has been badly hit by the Covid-19 outbreak and is several weeks ahead of the pandemic's curve compared to the rest of the UK. Currently 58 of the 144 fatal cases have been in London.
The move will be a massive ramping up of social distancing measures and it is unclear how long it will last for.
Until now, Mr Johnson had only advised Britons to avoid pubs and other social gatherings. But there were concerns people were ignoring these measures and continuing to meet in groups, risking the spread of the virus.
Health Secretary Matt Hancock this morning appealed for more people to stay at home.
He said: 'If you stay at home, you are saving lives. 'I know, of course, this is a more dangerous disease for older people but not exclusively, some young people get it too.
The expected closures are unlikely to be a popular move among those reliant on the hospitality industry for their livelihoods. Jobs have already been lost and businesses closed.
181 total views, 1 views today