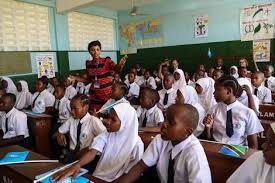 Teachers of private schools have appealed to the government to come to their aid with palliatives, saying the continued closure of schools in a bid to contain the spread of COVID-19 is subjecting them to starvation.
The statement signed by their spokesman, Abdul-Ganiyy Raji, and made available to the Tribune Education in Kaduna, urged the government not to wait for owners and teachers of private schools to start dying of starvation before it comes to their aid.
"We cannot afford to keep ignoring the welfare of private schools teachers. Private school teachers are now hungry.
"We must remember that private schools survive primarily on earnings from their customers (parents) and we all know that schools have not collected third term fees from their customers.
"All the sources of income of private schools have been blocked by the current lockdown. Government should please do something about private schools," Raji said.
The group noted that for more than two months now, schools have been closed in compliance with the lockdown order imposed by the Federal Government to contain the spread of the novel coronavirus.
254 total views, 1 views today