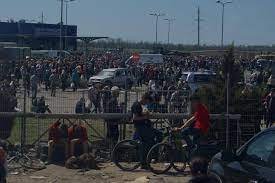 The Ukrainian government is planning to evacuate more civilians from Mariupol on Monday.
This is after dozens were finally brought to safety following weeks of being trapped under heavy fire in the strategic port city's Azovstal steel complex.
The plant has endured a Russian blockade since Moscow's invasion on February 24, with stories of the harsh conditions in besieged Mariupol terrifying the world as a war that has killed thousands killed and displaced millions entered its third month.
The UN said Sunday that a "safe passage operation" was taking place at the Azovstal steel plant.
According to Kyiv, roughly 100 civilians have been evacuated from the besieged plant, while the International Committee of the Red Cross said it was "currently participating" in the operation.
Russia's defense ministry gave a lower figure of 80 civilians, adding: "Those who wished to leave for areas controlled by the Kyiv regime were handed over to UN and ICRC (Red Cross) representatives".
In his regular daily address to the nation, Ukrainian President Volodymyr Zelensky hailed the successful operation and said more evacuations were expected Monday.
122 total views, 1 views today