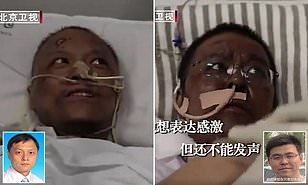 Information reaching us at Checkout Magazine has it that two Chinese doctors who had been critically ill after contracting the novel Coronavirus from patients in January woke up to find that their skin has turned dark after the virus damaged their livers.
Dr Yi Fan and Dr Hu Weifeng, both 42, witnessed abnormal change in skin colour, caused by hormonal imbalances after their livers were damaged by the virus, their doctor told Chinese state media.
Dr Yi and Dr Hu are colleagues with late whistle-blower Li Wenliang, who was punished for sounding the alarm of the virus and then died of the disease on February 7.
The two medics were both diagnosed on January 18.
They were taken first to the Wuhan Pulmonary Hospital and then transferred to Tongji Hospital's Zhongfa Xincheng branch, according to Chinese state broadcaster CCTV.
229 total views, 1 views today