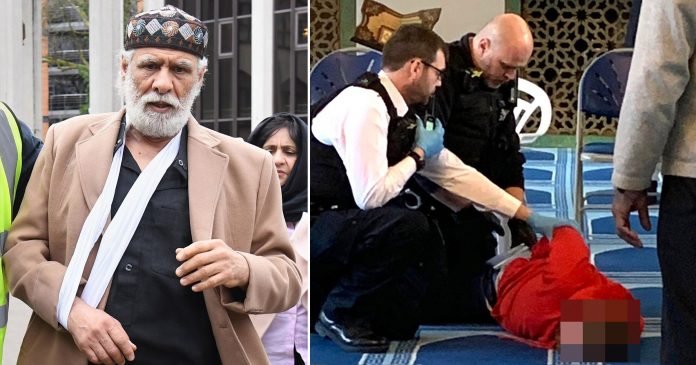 A muslim leader stabbed inside Regent's Park mosque has vowed not to stop praying despite having his life on the line for his faith.
Raafat Maglad, 70 admitted that he was lucky to survive and vowed: "Nothing will stop me from praying".
The clergy who leads the call to prayer, was stabbed in the neck at London Central Mosque during prayers at about 3pm yesterday.
Around 20 members of the congregation rushed to tackle the knifeman, pinning him down until police and emergency services arrived. A suspect, 29, was today being quizzed on suspicion of attempted murder.
Mr Maglad, a father-of-three from Queen's Park who leads the call to prayer five times a day, was rushed to hospital and was discharged this morning, his arm in a sling.
He told the Standard: "I was closing my eyes to pray and put down my head. It felt like someone hit me with a brick. It was terrible, there was so much blood. I put my hand up and tried to close the cut. Everyone stopped him and called the ambulance. I feel lucky. It could have cut my jugular and I would have had no chance."
"I would like to thank everyone who helped. Last night the emergency room was full of so many people supporting me. It was nice. This attack won't change my behaviour. Nothing will stop me praying, and I will be back calling prayers as soon as I can. I have to find out if I need surgery first."
273 total views, 1 views today