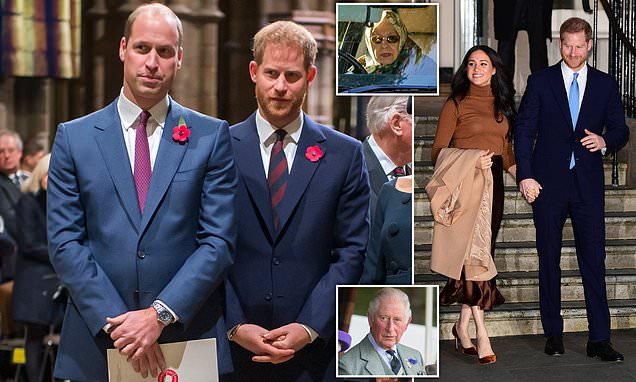 Prince William is desperately sad that the close relationship he once enjoyed with Prince Harry has soured; it was claimed by a friend last night.
The Duke of Cambridge has said he is unable to even 'put an arm round' his younger brother nowadays, after a rift saw them drift apart over the past year.
Harry and Meghan's intention to quit as senior Royals has widened the gulf between the two siblings, with William understood to be 'incandescent' over his brother's blindsiding of the Family.
But as the brothers gear up to come face-to-face at the Queen's high-stakes crisis summit at Sandringham on Monday, the second-in-line to the throne confided in a friend his raw agony over the cracked sibling bond.
He said: 'I've put my arm around my brother all our lives and I can't do that any more – we're separate entities,' according to the Sunday Times.
William also spoke of his frustration that Harry is no longer part of the 'team' by deciding to become 'financially independent' in a pared-back Royal role. Yet he hopes that there will 'come a time' when the Duke and Duchess of Sussex will be 'singing from the same page' once again.
The Queen, who was pictured ashen-faced behind the wheel of her Land Rover today, is also said to be concerned for the mental fragility of her grandson Harry. It also emerged the Duke of Sussex pulled the trigger on his abdication decision because he feared his wife, who had not settled well in the UK, was 'on the brink' and could suffer a meltdown if she remained in the country permanently.
Anxious to avoid exacerbating an already tense situation, the Royal Family is keen to tread carefully. source said: 'There is no suggestion that they will be punished or stripped of their Royal titles or HRH status. Everyone wants to find a solution to this as quickly as possible.'
249 total views, 1 views today