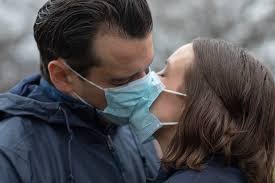 In the wake of legislations banning individuals from having sex with people they do not live with, couples have been advised to wear facemasks during sex in a bid to avoid transmission of the Coronavirus.
According to a new study from researchers at Harvard University in the US has found that having sex could spread coronavirus, and recommends that couples take preventative measures in the bedroom – including wearing face masks.
These preventative measures also include showering before and after sex, avoiding kissing and 'cleaning of the physical space with soap or alcohol wipes'.
Dr Jack Turban, the study's lead researcher, said: "For some patients, complete abstinence from in-person sexual activity is not an achievable goal. In these situations, having sex with persons with whom they are self-quarantining is the safest approach."
The UK Government announced this week that it's now illegal to have sex with people from other households during lockdown. Under a new amendment to The Health Protection (Coronavirus, Restrictions) Regulations 2020 bill, it says only those with 'reasonable excuses' can meet indoors and sex is not listed as one of those excuses.
163 total views, 1 views today