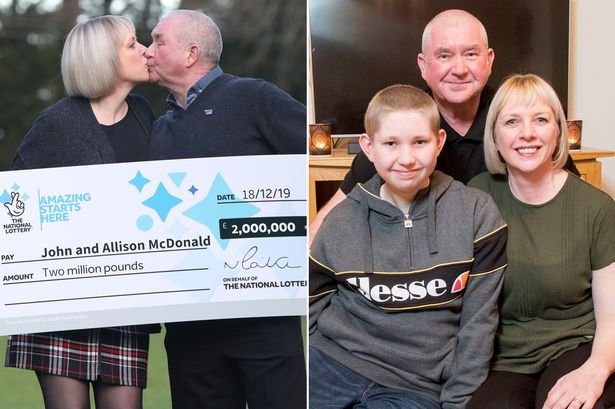 A delighted couple won a £2million Lotto jackpot then three days later their 15-year-old son battling cancer was given the all clear.
John and Allison McDonald, from Stockton On Tees, say all their dreams have come true within a matter of days.
They said they are thankful for the best start to the decade and hope 2020 will be a positive one for their family.
The couple bagged the huge prize as their Lucky Dip ticket matched all six numbers – 13, 15, 36, 44, 50, 56 – to scoop the £2,000,000 Lotto Jackpot on Wednesday, 18 December.
And just three days later, John and Allison were given the news they had longed for about their son Ewan, who had battled cancer all year.
John said: "It is just like all of our lifelong dreams came true in the space of three days.
"What a start to 2020. Everyone always dreams of winning the lottery at Christmas – and talks about how amazing this would be – but Allison and I never believed it would happen to us – and it has
321 total views, 1 views today