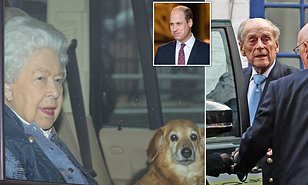 The 93-year-old says "our nation's history has been forged by people and communities coming together to work as one".
Queen Elizabeth II has advised citizens of the United Kingdom to change their daily routine in a bid to survive the coronavirus pandemic scare.
Her message comes after she moved from Buckingham Palace to Windsor Castle a week earlier than planned for the Easter period – and will likely stay there longer than originally thought – with coronavirus at its most widespread in London.
in a statement, she said: "As Philip and I arrive at Windsor today, we know that many individuals and families across the United Kingdom, and around the world, are entering a period of great concern and uncertainty.
"We are all being advised to change our normal routines and regular patterns of life for the greater good of the communities we live in and, in particular, to protect the most vulnerable within them.
"Many of us will need to find new ways of staying in touch with each other and making sure that loved ones are safe. I am certain we are up to that challenge. You can be assured that my family and I stand ready to play our part."
The 93-year-old monarch's message comes after both Prince William and Prince Harry paid tribute to the "awe-inspiring" response of the public to the coronavirus crisis.
In separate social media messages, the two princes vowed to try and help coordinate community efforts to respond to the COVID-19 pandemic.
Earlier on Wednesday, William and Harry's cousin Princess Beatrice cancelled her planned wedding reception in Buckingham Palace Gardens because of the coronavirus.
219 total views, 1 views today