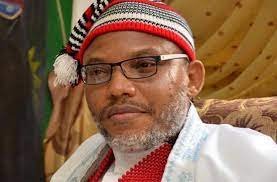 The United States and the British Government have refused a request by the leader of the Indigenous People of Biafra, Nnamdi Kanu, to send representatives to observe his trial.
The trial is set to hold at the Federal High Court, Abuja Division on January 18, 19, and 20.
While the US said it was restricting its employees from attending public gatherings, the UK clarified that it does not normally attend a court case involving a British national.
The US Embassy and the British High Commission said these in separate responses.
Kanu's lawyer, Ifeanyi Ejiofor, had written to the US and UK missions in Nigeria, stating that the presence of their representatives would ensure a fair hearing for his client.
The letter titled, 'Request for delegate(s)/representative(s) to observe court proceedings …In Re: Charge NO. FHC/ABJ/CR/383/2015, Federal Republic of Nigeria V. Nnamdi Kanu', read in part, "May we, gratefully, please, request you to send a representative(s) to observe the proceedings of the court on those adjourned dates and on any other date to which further proceedings in the case may be adjourned until the matter is disposed of.
"They need to ensure that our client is given a fair trial has compelled us to make this request. The instant request is compelling in the circumstance, to ensure that the whole process of our client's trial is fair and just in all circumstances. It must be remembered that his purported indictment on criminal charges has a political undercurrent."
Ejiofor insisted that the FG has an interest in the criminal charge pending against his client and the outcome of his trial.
140 total views, 1 views today