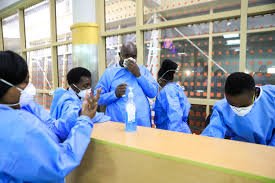 Six new cases of the coronavirus infections have been discovered in Nigeria, bringing the total number of confirmed cases to 190.
This was announced by the Nigeria Centre for Disease Control on Friday.
NCDC tweeted, "Six new cases of COVID-19 have been reported in Osun State, Nigeria.
"As of 11:00 am on 3rd of April, there are 190 confirmed cases of COVID-19 reported in Nigeria. 20 have been discharged with two deaths.
"Currently, Lagos has 91 cases; Abuja- 35; Osun- 20; Oyo- eight; Akwa Ibom- five; Ogun, Edo and Kaduna four cases each, Bauchi three; Enugu and Ekiti two cases each, Rivers – one; and Benue – one case."
Osun State Government had on Thursday announced that six more Ivory Coast returnees tested positive for coronavirus.
The PUNCH reports that the development brings the total number of cases in the state to 20.
164 total views, 1 views today