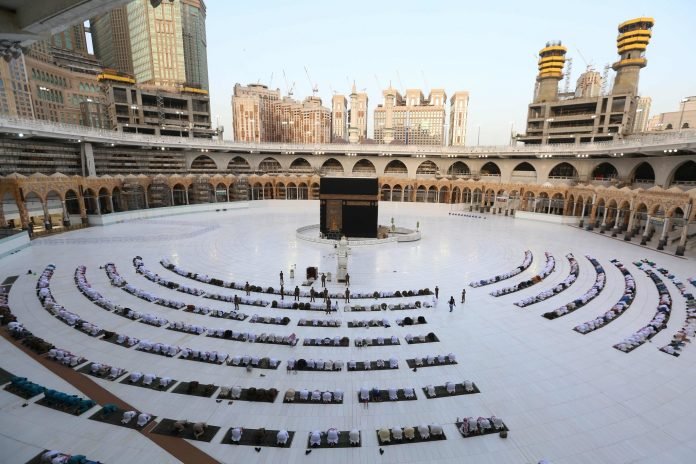 …. Pilgrims observe Coronavirus safety measures.
Amid the Covid-19 pandemic, Muslim pilgrams wearing face masks gathered near the holy city of Mecca in Saudi Arabia on Thursday for the climax of the annual Hajj pilgrimage, which was significantly curtailed because of the virus.
Checkout Magazine gathered that a few thousand people are taking part, a fraction of the 2.5 million people who usually gather every year in Mecca for Islam's biggest gathering.
In Saudi on Thursrday, pilgrims, who were clad in their traditional snow-white robes, wore face masks and observed distancing as they prayed inside al-Namirah Mosque in the area of Mount Arafat, around 20 kilometres east of Mecca.
Live broadcasting of the ritual sermon showed mask-wearing pilgrims listening and praying using personal rugs as part of strict health precautions.
Saudi authorities also set up sterilised tents to accommodate pilgrims in Arafat, Saudi state television al-Ekhbariya reported.
Meanwhile, a similar situation is presently obtained in many worship centres and recreation grounds in parts of Nigeria, except in Oyo State where the government gave the nod for Eid grounds to be opened for Muslim faithful to gather for prayers today.
Recreation centres in the Federal Capital Territory (FCT) will be devoid of fun-seekers and entertainers as the authorities directed that they be shut down.
51 total views, 2 views today