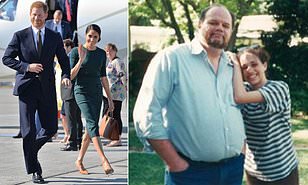 The Duchess of Sussex's father is reportedly prepared to testify against her claim that a newspaper unlawfully published one of her private letters to him.
Thomas Markle's evidence forms part of the Mail on Sunday's defence against Meghan's allegation of breach of privacy, copyright and data protection, documents filed at the High Court on Tuesday revealed.
This means that should the case go to trial, both Meghan and her father could be called to testify against one another, with the paper's sister publication the Daily Mail reporting that Mr Markle would be prepared to face her in court.
The developments came a day after the Queen confirmed in statement that Harry and the duchess would be stepping back as senior members of the royal family.
The Mail on Sunday will argue there is a huge public interest in the personal relationships of members of the royal family as part of the paper's defence against the duchess's legal claim.
The High Court documents suggest the paper will claim Meghan and other royals "rely on publicity about themselves and their lives to maintain the privileged positions they hold".
They disclose text messages sent from Mr Markle to Meghan and show the breakdown of their relationship in the build-up to her wedding to Prince Harry, according to the Telegraph.
245 total views, 1 views today