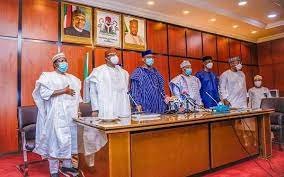 Governors under the aegis of the Nigeria Governors Forum (NGF) have vowed to tackle insecurity with resources within their disposal.
The Forum added that the governors would not succumb to those perpetrating insurgency in the country.
The Chairman of the Forum and Ekiti State governor, Dr Kayode Fayemi, stated the governors resolution on Tuesday in Minna when he led a delegation to Niger State Governor Abubakar Sani-Bello over the kidnappings in the state.
Fayemi said: "The agenda of these people is to destroy the Federal Republic of Nigeria. That is their ultimate agenda. It is either we succumb to it or we fight it. And I can assure you that we will fight it with every fibre of our being. We will fight it to save our people."
He said as governors they owed the people the duty of securing their lives and properties.
Fayemi added: "Our first responsibility as Governors is the security and welfare of our people. We do not want to lament because our people expect us to fix these problems. Our people want us to find a permanent solution to this cycle of violence, banditry, insurgency and criminality bedevilling our country.
"We need to explore every avenue to address this menace, we need to explore other avenues side by side with whatever the security institutions are doing. If that means engaging in dialogue, we may not have a choice but to engage in the dialogue. Anything that will help us deal with this crisis."
Sani-Bello appreciated the Forum for identifying with the people of Niger State at this trying period.
80 total views, 1 views today