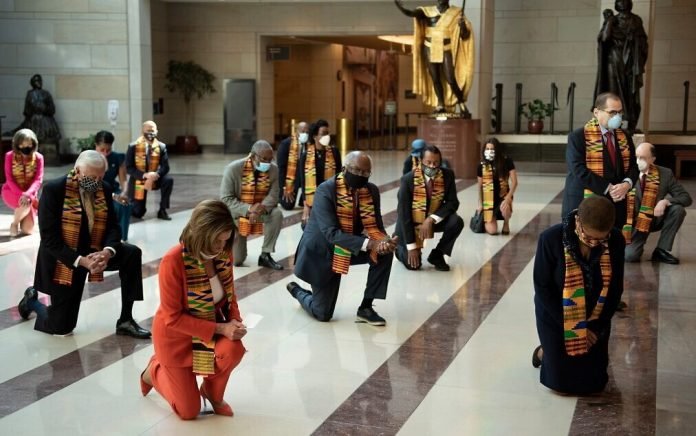 US Democrats in Congress in honour of African-American, George Floyd murdered by a white police in Minneapolis last month, took a kneel and draped cloth of colourful geometric Ghanaian designs called kente.
However their sartorial choice has been the subject of controversy, as social media users have questioned the decision to don the material.
The kente scarves were given out to the congressmen and women by the Congressional Black Caucus, according to NBC News reporter Leigh Ann Caldwell.
"The significance of the kente cloth is our African heritage and for those of you without that heritage who are acting in solidarity," Karen Bass, chairwoman of the Congressional Black Caucus, told reporters on Monday.
"That is the significance of the kente cloth – our origins and respecting our past."
Members of the Congressional Black Caucus have worn kente at other occasions, including events last year to mark the 400th anniversary of the arrival of enslaved Africans to America and President Donald Trump's State of the Union address in 2018.
Reacting, the drummer for the Roots, Questlove, tweeted his disbelief, saying at first he thought he was being pranked when he was told about it:
The singer John Legend was particularly tickled about how life had imitated art as last month he had taken part in a comedy sketch in the US about Black History Month, which included a satirical song about adding kente cloth to your outfit.
However, Kenyan writer Nanjala Nyabola saw the Democrats' use of kente as an insult to Africans, saying: "We are not your props."
302 total views, 1 views today