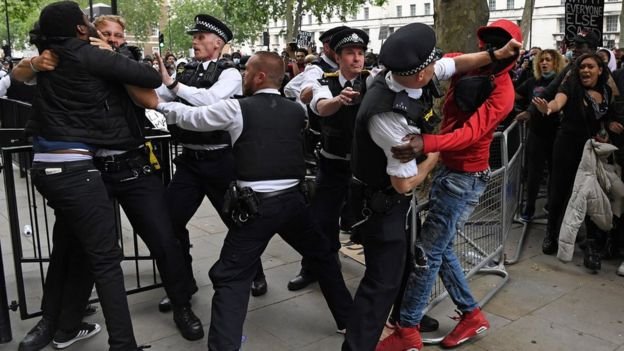 Protesters and officers reportedly clashed on Wednesday following anti-racism protests in Hyde Park, according to reports.
Thousands gathered in Hyde Park at 1pm on Wednesday before marching towards Westminster to protest against discrimination in the UK.
But after a peaceful start to the day bottles and objects were thrown at officers and physical altercations broke out as tensions rose later in the afternoon.
The Met Police said that two people were arrested on suspicion of assaulting an emergency worker and violent disorder by the entrance to Downing Street, where some of the chaos first erupted.
Witnesses said that an officer had been punched when a protester fell over the police barricades by Downing Street, sparking mayhem.
However, freelance journalist Mattha Busby, who filmed the choas and said it was "unclear exactly what started things".
"Police appeared to attempt to take a man from the crowd and pandemonium ensued," he tweeted.
A number of videos shared on social media showed a number of violent skirmishes shaking Westminster throughout the evening and as of 9:30pm police were still facing down protesters.
258 total views, 1 views today