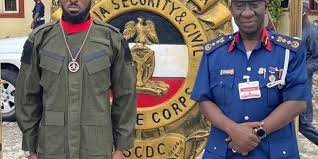 Nigerian singer, Daniel Oyedapo, popularly know as D'Banj has been made Agro Rangers ambassador with the Nigeria Security and Civil Defence Corps.
He made this known via his official Instagram account a few days after visiting Wells Carlton hotel in Abuja.
Speaking on the new role, D'Banj said, "I have dedicated my life and personal effort to putting Nigeria and our collective efforts on the global map, and I find in this initiative undertaken by the Nigerian Civil Defence another wonderful opportunity to do so. Organisations such as the Nigerian Civil Defence that are created to protect Nigerian citizens do need the support of the general public to do so effectively.
Meanwhile, D'Banj is on vacation at the Abuja based hospitality outfit, Wells Carlton, after a visit in the company of the outfit's sales Manager, Jerry Opiughie.
173 total views, 1 views today