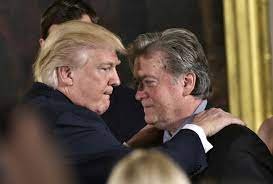 Former US President Donald Trump's longtime advisor Steve Bannon has been indicted over his refusal to testify to the congressional committee investigating the Capitol riot, the Justice Department announced.
A federal grand jury returned the indictment in a significant victory for the House Select Committee to Investigate the January 6 Attack, which is battling efforts by Trump and top aides to use presidential privilege to block testimony and documents necessary for the probe.
Investigators think Meadows and Bannon could have information on links between the White House and the Trump supporters who invaded the Capitol to prevent the certification of Joe Biden as winner of the November 2020 presidential election.
Bannon, 67, was charged with two counts of contempt — for ignoring subpoenas to appear for a deposition and for failing to supply documents to the committee.
Each count carries a penalty of one month to one year in jail.
"Steve Bannon's indictment should send a clear message to anyone who thinks they can ignore the Select Committee or try to stonewall our investigation: no one is above the law," said committee Chair Bennie Thompson and Vice-Chair Liz Cheney in a statement.
Bannon, 67 was among the first of dozens of people who have been called to testify on the violent attack to shut down Congress on Trump's baseless claims that Biden had won the election due to massive voter fraud.
Bannon refused to testify based on Trump's own assertion of executive privilege to prevent a number of former aides from testifying and block the committee from obtaining documents from his administration related to the Capitol assault.
354 total views, 1 views today