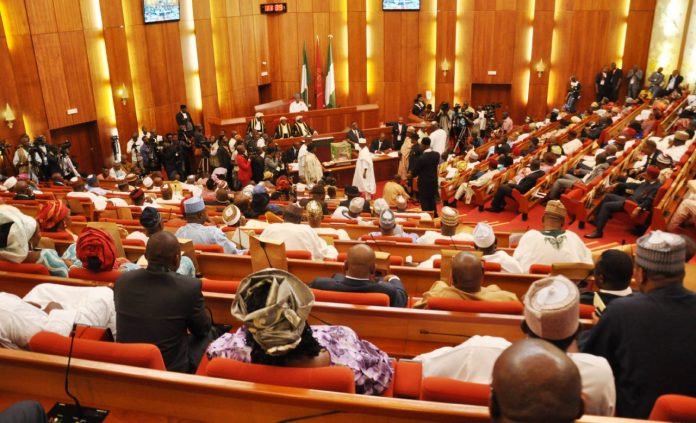 Following the senate probe into an alleged job racketeering in different government ministries, some federal permanent secretaries have started submitting responses to their queries by the Senate Committee on Ethics, Privileges and Public Petitions, according to reports.
It will be recalled that the Senate on Monday had demanded detailed written submissions from the permanent secretaries through the office of the Head of Service of the Federation, on their levels of involvement in the job racketeering scandal going on under their watch.
The President of the Senate, Ahmad Lawan, wrote the query to the various heads of the MDAs, through the HoS, which was despatched to the accounting officers by the Committee on Ethics, Privileges and Public Petitions.
The Senate alleged that the various MDAs were harbouring syndicates who were acting as fronts for some key officers in the establishment.
He said the criminals were collecting between N500, 000 and N1.5m from each candidate already engaged by the Federal Civil Service Commission before their documents would be processed and they would be deployed accordingly.
Chairman of the committee, Senator Ayo Akinyelure told PUNCH that while the permanent secretaries were submitting written responses, the HoS and the Chairman of the Federal Civil Service Commission would answer verbal queries from the panel members.
He said, "We have started receiving responses from the permanent secretaries and we are treating the cases as they respond.
"What we discovered so far is that when letters are issued by the FCC and sent to the ministries, some officials will sit on the letters for one or more years and by the time they act on them, events would have overtaken it.
"We are therefore asking the HoS, FCSC and the permanent secretaries to tell us what happen to the funds appropriated for the salaries of the declared vacancies over the years.
On how the panel got its information about the alleged job scandal, Akinyelure said, "We have petitions written by whistle-blowers, challenging the system of employing people to work in the federal ministries and agencies of government."
206 total views, 1 views today