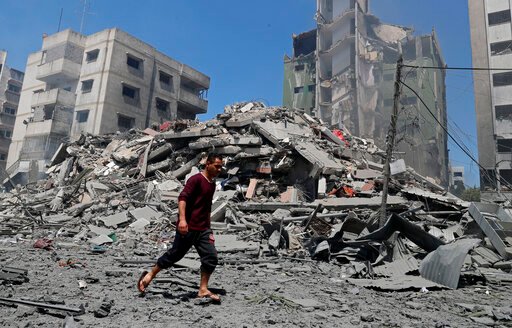 Netanyahu warns war will go on
Israeli airstrikes on Gaza City demolished three buildings and left no fewer than 42 people dead yesterday, Palestinian medics said.
Amid the rise in death figures and international efforts to broker a cease-fire, Israeli Prime Minister Benjamin Netanyahu said the fourth war with Gaza's Hamas rulers would rage on.
Netanyahu, in a televised address yesterday, said the attacks were continuing at "full-force" and will "take time."
Israel "wants to levy a heavy price" from the Hamas militant group, he said. He was flanked by his defence minister and political rival Benny Gantz in a show of unity.
Since violence flared last Monday, at least 188 Palestinians, including 55 children, have been killed in the Gaza Strip. More than 1,200 others have been wounded. In the occupied West Bank, Israeli forces have killed at least 13 Palestinians.
Israel has reported 10 dead, including two children, from the thousands of missiles fired from Gaza by Hamas and other Palestinian groups, many of which were intercepted by Israel's Iron Dome air defence system.
22 total views, 1 views today