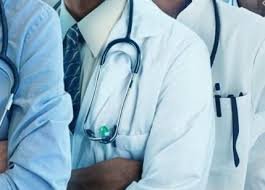 Patients in Ekiti State public hospitals have been evacuated in the wake of an indefinite strike embarked on by doctors.
Checkout Magazine gathered that medical activities have been suspended, as medical personnels are unwilling to return to work unless government meets their demands.
The doctors, under the auspices of the National Association of Government General Medical and Dental Practitioners (NAGGMD), on June 30 withdrew their services, after exhausting 28 days ultimatum issued to the government, in protest against alleged wage disparity, unpaid backlog of allowances, among others.
The doctors had accused Governor Kayode Fayemi of being insensitive to the plight of health professionals, alleging neglect of the primary and secondary health system.
Addressing reporters yesterday on the strike, NAGGMDP Chairman Dr. Kolawole Adeniyi said the doctors were left with no option but to embark on the strike following government's failure to respond to their demands.
He said efforts by the doctors to persuade the government to improve their welfare had not yielded result in the last 10 years.
176 total views, 1 views today