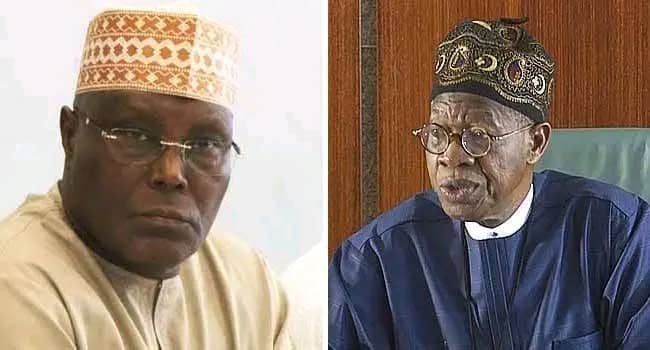 The Federal Government has tackled the Peoples Democratic Party (PDP) Presidential Candidate, Alhaji Atiku Abubakar over his economic blueprint.
It said the agenda was "a crude attempt at copying all that the administration of President Muhammadu Buhari has been implementing".
This, according to the government, is especially in the areas of job creation, infrastructure financing, relationship with the private sector, rejuvenation of the power sector, poverty reduction, debt management, and the overall management of the economy.
Minister of Information and Culture, Alhaji Lai Mohammed, made these statements at a briefing in Abuja.
Mohammed said it was more shocking that an opposition that has condemned all that the Buhari Administration has done would turn around to weave its so-called economic blueprint around the same things that are currently being done by the same administration.
The minister said the briefing was aimed at "exposing the hypocrisy inherent in an opposition that condemns an administration while also showcasing a blueprint that is nothing but a poor version of what's on the ground".
But the PDP campaign council said Atiku's economic plan was not the same as Buhari's.
It said what its standard bearer presented to the organized private sector in Lagos State last week "represents the hopes of a new beginning, which Nigerians eagerly anticipate".
14 total views, 2 views today