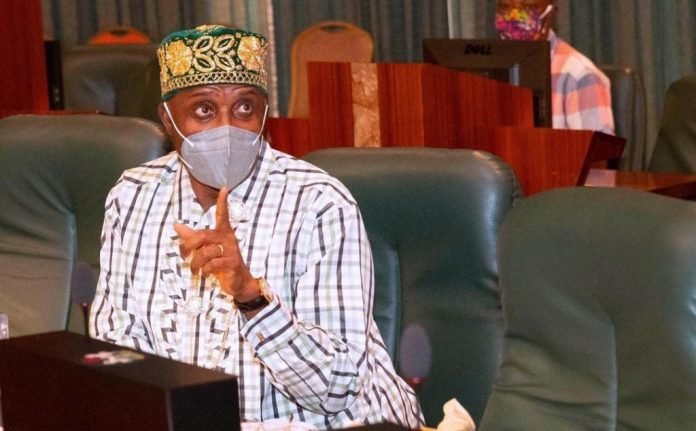 The Minister of Transportation, Rotimi Amaechi and House Committee Chairman on Treaties, Particulars and Agreement Ossai Nicholas Ossai we're involved in a heated argument at the House of Representatives Hearing Room 028 yesterday.
The NATION reports that the exchange occured during the legislative hearing on the loans agreements signed by the ministry. At issue was an alleged $33 billion loan which Ossai said Nigeria had signed. But the minister denied any such agreement.
Amaechi, who had warned the committee against scrutinising the Chinese loans, repeated his position that Nigeria might lose the opportunity of a loan to fund the Lagos-Calabar coastal rail line and the people of Southsouth will be denied that project because "of the committee you set up to investigate the Chinese loans."
However, Ossai was displeased by what he considered a misconception of the legislative scrutiny of various agreements signed by government officials.
He said: "We have heard some people ask why we are focusing on only Chinese-related loans and commercial contracts. We will like Nigerians to know that we aren't focusing on only Chinese loans. From what we know, Nigeria has over 500 bilateral loan and commercial contracts agreements and investments treaties with different countries and institutions.
"There is no way the committee will do a thorough job without segmenting the issues based on countries, institutions, or MDAs. Thus, it must be clearly noted that this is not targeted at only China, neither was it designed to impede the development of the railway sector and other infrastructures.
"But rather to ensure full disclosure, transparency, accountability, utmost good faith, and value for money in both the bilateral loans and commercial contracts agreements entered into by the Nigerian government.
While dismissing the claim of an existing $33 billion contract signed by the Ministry, Amaechi demanded evidence of the contract from the Committee. He said: "Mr. Chairman, if you say that the the ministry has awarded a contract of $33 billion, we would want to see it because the only contract Ministry of Transportation has awarded so far is $1.6 billion for Lagos/Ibadan (rail project).
115 total views, 1 views today