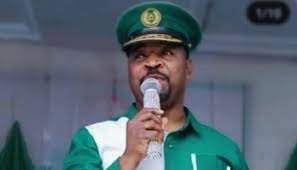 After a meeting at the Lagos State Parks and Garages (LASPG), commercial bus drivers in the State have backed the removal of fuel subsidies.
Deputy Chairman, Alhaji Sulaimon Ojora, who stood in for Chairman, Alhaji Musiliu Akinsanya (MC Oluomo), commended the drivers for showing understanding.
Ojora pledged the passengers would not witness astronomical increases in bus fares. This, he said, was to cushion the effects of the subsidy removal.
"LASPG will not inconvenience passengers. Fuel subsidy is a cankerworm eating deep into our economy and a means of milking the treasury by a few cabals parading themselves as oil marketers. It is pertinent to note the removal will have immediate effects on our lives but will be beneficial in the long run.
"We call this meeting to caution members not to take undue advantage of the situation by arbitrarily increasing bus fares. A seven-man committee has been set up to monitor bus fares across the state,"
Ojora implored bus drivers in other states to take a cue from their colleagues in Lagos by not making bus fares out of reach of passengers.
45 total views, 1 views today